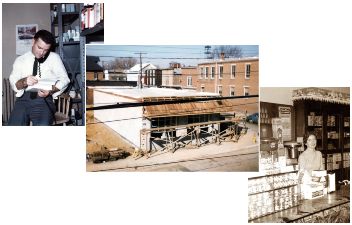 From the ashes of early adversity, Edwards Pharmacy would become one of Centreville's most respected family businesses
In 1964, Jim Edwards purchased Thompson's Pharmacy at the corner of Commerce and Water Street in downtown Centreville - the same site of Edwards Pharmacy today.
The name change came just four years later as the result of a traumatic event that the young pharmacist could not have foreseen. A devastating fire in 1968 destroyed a historic Opera House and three other downtown businesses including the pharmacy, as reported in the Record Observer story below.
"It would make us stronger," reflected Edwards, known throughout the community as 'Doc'. He began the construction of his new pharmacy almost immediately after the devastating fire.
Edwards Pharmacy would become known by generations of families in the local area for its strong community ties and friendly, caring service.
From the front page of the Record Observer - Thursday, April 25, 1968
3 HURT AS FLAMES DESTROY 3 BUILDINGS
Three buildings in the heart of Centreville's business district lay in ruins today after flames threatened much of the town about 9 o'clock Tuesday night. (April 23).
The fire, the third disastrous blaze to strike the town's business area since 1902, completely destroyed the old Opera House Building (long vacant), Thompson's Pharmacy, Mayer's Shoe Shop and the Beauty Spot Salon.
Smoke and water damage occurred in the Center Coffee Shoppe, the Center Beverage Store and Draper's Market, all on Water Street. These stores were burned out on July 11, 1963, in a similar holocaust.
Also burned out completely were an apartment over the Beauty Spot Salon, which stood next to the Opera House, and an apartment and the Masonic lodge rooms over Thompson's Pharmacy.
Three persons were injured at the height of the fire. One, a 19 year-old college student, Allen Douglas Farmer, of Salisbury, who was standing on the corner when the Opera House wall collapsed and the bricks ripped down electric lines. The lines fell on the youth and he suffered multiple burns over his body and a fractured leg.
After treatment in Easton, the youth was rushed to Johns Hopkins Hospital in Baltimore in what was termed "critical" condition. Wednesday morning he was reported in "satisfactory condition."
James Edwards, owner of Thompson's Pharmacy, was attempting to remove valuables from his store when the Opera House wall fell over on his building and he was struck by falling debris. He suffered a broken ankle and burns.
Both men were taken to the Memorial Hospital in Easton by the Goodwill Fire Company ambulance.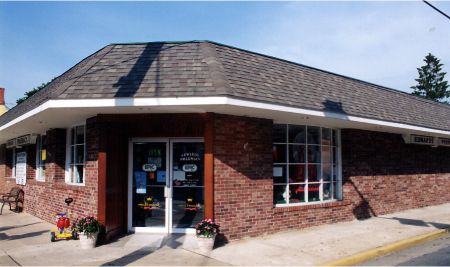 Our highest priority is to meet the special healthcare needs of our community with traditional prescription services plus compounded medications reformulated in our own laboratory.
Our unique services include free prescription delivery within town limits and free consultations with our pharmacists. We have staff available to advise you on questions relating to your blood glucose testing, and if you need your blood pressure checked, we're happy to carry that out for you too.
We also carry an extensive range of home healthcare products including wheelchairs, walkers, canes, lift and recline chairs and other medical supplies not handled by many of our competitors.
In our store, you'll find a complete Hallmark Gold Crown Card and Gift Center, plus a variety of unique crafts, jewelry, candles, candies, school supplies, cosmetics and one-hour photo processing services, including digital photo enhancement. And as an EPIC Pharmacy, we are able to offer prices comparable to other drug chains, plus something you can't put a price on - excellent customer service based on nearly five decades as your family-owned corner drugstore. We look forward to serving your needs with the personal service we pride ourselves on!
Shalendra Anil Cherukuri - Pharmacist And Owner
Hi! I'm Shalendra - known to everyone as Anil. I'm a Pharmacist and the owner of Edwards Pharmacy.
My interest in Pharmacy started from a very young age when I observed my father's work as a doctor. I was fascinated by how drugs work and most impressed by how my father used them to treat ailments.
This young interest grew and I chose to undertake a Bachelor's Degree in Pharmacy at Sri Ramachandra Harvard Medical International in India (affiliated with Harvard University). I then went on to complete a Master's Degree in Pharmaceutical Chemistry in New Jersey, and to become a Registered Pharmacist. I also gained my training in compounding at the PCCA (Professional Compounding Centers Of America).
After becoming a registered pharmacist and gaining expertise in retail pharmacy - I became the owner of Edwards Pharmacy in 2007. I currently own and run several other retail pharmacies of which Edwards Pharmacy has become my model store. My work brings me the most satisfaction because I care about people's health and have the privilege to help them as a Pharmacist. I chose to be in the retail pharmacy field because I love working with the public - answering questions, helping them to solve problems and making sure they get the best from their medications.
I know the great reputation our pharmacy has built up lies in the excellent staff we have - several of them having worked for Edwards Pharmacy for over 15 years! I invite you to come and enjoy the great services and outstanding customer service we have to offer at Edwards Pharmacy - I'm confident you won't find another pharmacy like us!
Trish Draper - Pharmacist
Hi! My name is Trish, a Pharmacist at Edwards Pharmacy.
The art and profession of preparing drugs, or pharmacy as it is known, has been an enormous part of my life. I was raised by a mother nurse; lived next door to the neighborhood pharmacist; and idolized my doctor uncle in my hometown of Crisfield, MD.
I graduated from the UMAB School of Pharmacy in 1983 with honors. I became the Pharmacy Manager at Drug Fair in Chestertown, MD, and was later hired by Edwards Pharmacy in May of 1985. I have attended many educational seminars which improve patient care through broadened knowledge. My areas of expertise lie in ''Natural'' Hormone Therapy, human and veterinary compounding, alternative therapies, and diabetes care.
I am a member of various organizations which include the Maryland and Eastern Shore Pharmaceutical Societies, IACP, PCCA, and other local groups. I have truly enjoyed the experience of being associated with Edwards Pharmacy, which is heavily involved in specialized pharmaceutical care services.
At Edwards Pharmacy, we pride ourselves on our commitment to the highest level of customer service.
If you visit our store, you'll find the following staff ready to help you:
3 Full-time Pharmacists, with expertise in Compounding
5 Certified Pharmacy Technicians, including 3 Compounding Pharmacy Technicians
2 Photo Services Customer Services Representative - to help with all your photo needs
3 Card and Gift Center Customer Services Representative - available for all your card and gift queries
2 Customer Services Representative trained to handle all your Medical Supplies questions
4 additional Customer Service Representatives to help with any other needs or questions you might have!
Also, we are always training pharmacy graduates in our store and welcome applications for internship. Our staff looks forward to welcoming you to our pharmacy and helping you in any way we can.
Meet some of our Pharmacy staff who have been with us for over 15 years!
Kelly Nelson
Certified Pharmacy Technician/Accounts Payable/Accounts Receivable